Knoxville Stepping Stones Early Learning Center
Stepping Stones Early Learning Center believes that every infant and child deserves the opportunity to experience a quality education in a safe and creative loving environment.
Now Hiring

Enrollment
Stepping Stones Early Learning Center believes that a quality childcare center should be family-centered, representing cooperative efforts by parents and teachers to provide a stimulating learning environment. We enroll children 6 weeks to age 11.
Creative Curriculum
The Creative Curriculum is one of the best teaching strategies for early learning because it focuses on the development of the whole child. The benefits from this curriculum is that the early learners become free thinkers and open to learn new subjects. And it is all done through play.
Programs
Daycare, three-year-old preschool, community partner with Knoxville Community School District for four-year-old voluntary preschool.
Stepping Stones Early Learning Center keeps the child in mind when establishing goals and philosophy. Children have the right to safe, creative and enjoyable child care, just as parents have the right to quality, affordable and accessible child care arrangements. Our program has a child-centered curriculum, providing developmentally appropriate practices. Our philosophy promotes "the whole child", by helping him/her develop and grow cognitively, socially, emotionally, physically and creatively through organized developmental activities.
Stepping Stones Early Learning Center believes that every infant and child deserve the opportunity to experience a quality education in a safe, creative and loving environment.
Our Daycare. Our Pre-School. Our Family. Our Community.
Welcome to Stepping Stones Early Learning Center—a place of imagination and creative learning that will soon become your child's home-away-from-home.
Our childcare center is an extension of your child's family and our staff and parents work together to provide the love and support needed for each child to reach his/her developmental milestones.
Reading/Writing
Children develop literacy skills and an awareness of language long before they are able to read.
The earlier we teach children to master handwriting, the more likely they are to succeed in school.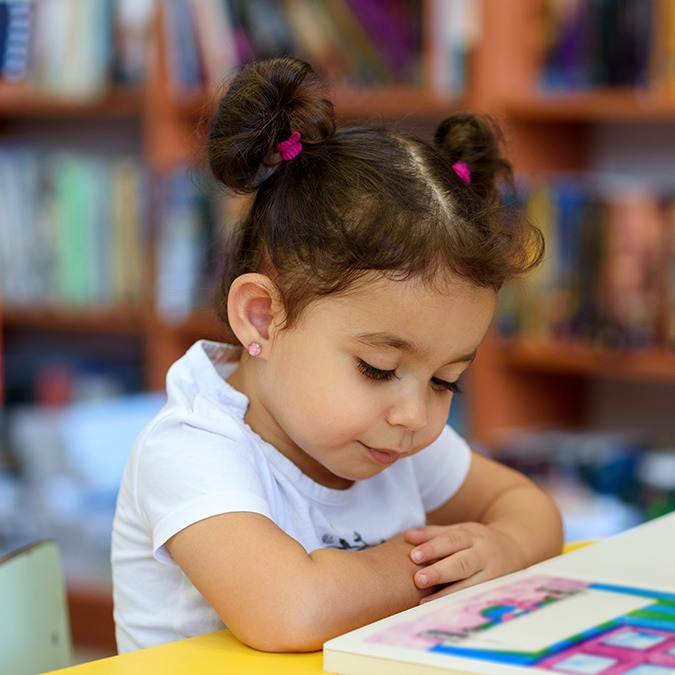 Math/Science
Everyday experience construct a variety of fundamental strategies which allow children to develop the essential process skills for problem solving, reasoning, communicating, making connections and representing.
Science and technology are concepts that are naturally occurring in any classroom. Here at Stepping Stones, we provide those concepts through play and experiences.
Art
Dramatic play, art, music and movement can be especially effective at introducing a wide variety of experiences for children throughout the day while supporting standards for preschool.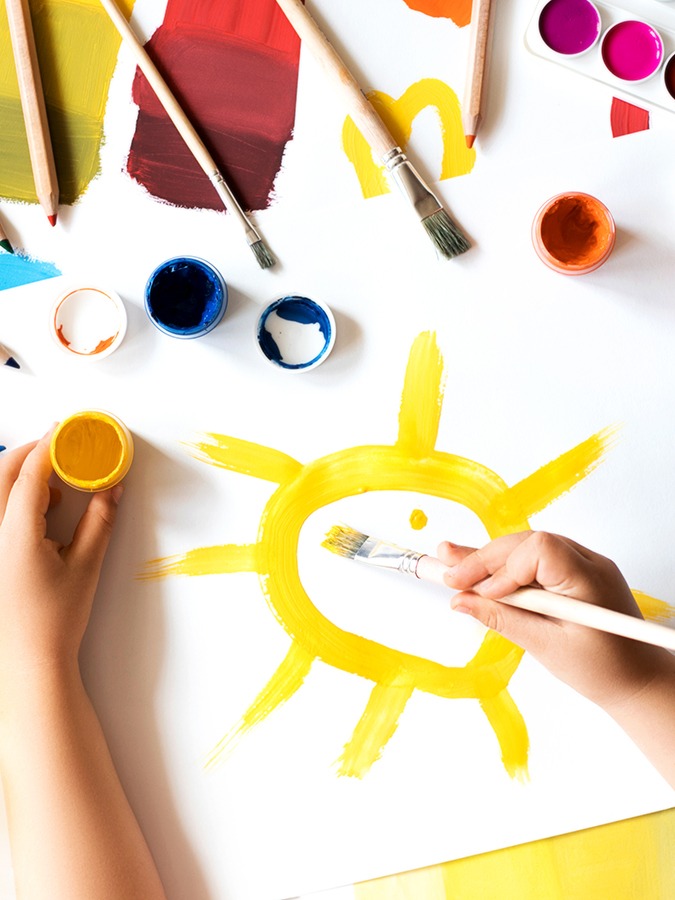 Critical Thinking
The Creative Curriculum helps children with their confidence, creativity and lifelong critical thinking skills and promotes positive outcomes.
Purposeful play encourages discovery and exploration, supporting children's academic growth. When children are learning through intentional play experiences, when they are exploring, investigating and discovering new interests and new ideas, they are continuing to find joy in learning, and laying the foundation for a lifetime of learning.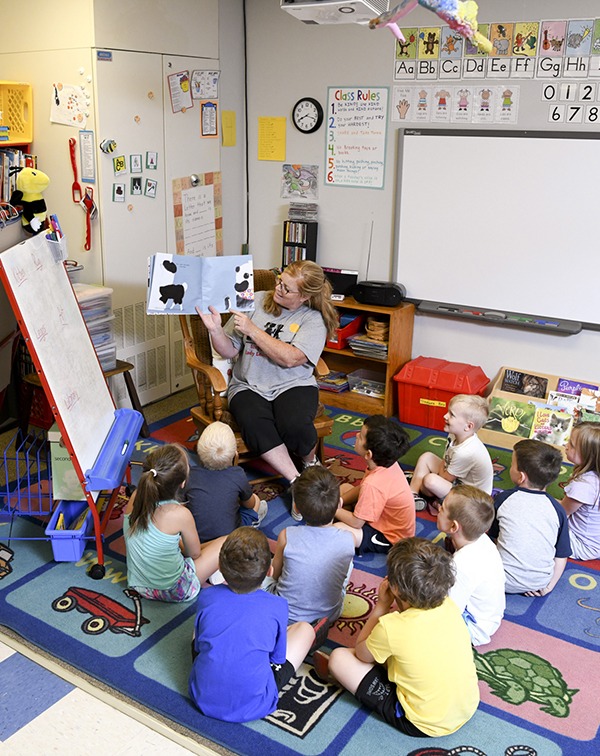 Choosing a childcare program is one of the most important and difficult decisions you will make, but know that here at Stepping Stones Early Learning Center, your child will be loved and cared for. Our staff plays such an important role because, for some children, we might be the most stable part of their life.
What Our Families are Saying
"We were incredibly blessed with the opportunity to send our children to Stepping Stones Early Learning center over the last 4+ years (including the Kids Klub program) until just recently with our move out-of-state. From our own experience, we can attest to the love and care that every member of the staff exhibited to our children on a daily basis. Their education programs are a huge reason that our oldest is excelling with her studies now in elementary school. We cannot say enough positive things about Pam, the staff and Stepping Stones, and we will miss everyone."
Jim and Reagan Faust "We enrolled our daughter at Stepping Stones when she was 18 months. We chose Stepping Stones because of the convenient hours, certified staff, and the nurturing environment. Prior to Stepping Stones, we were using an in-home daycare and weren't pleased with the inconvenient hours and lack of curriculum. We felt that Stepping Stones provided the structure we desired for our daughter, without feeling sterile. We feel that the environment has benefited our daughter in language development, social skills, and early literacy. While it is a "center," we always feel welcomed by the staff and trust that our daughter is in good hands. I would absolutely recommend Stepping Stones to any parent that is looking for quality childcare and preschool. We look forward to how she will grow over the next few years in the program."
Ben and Elly Shaw "Stepping Stones has continually provided outstanding care and outstanding curriculum for my kids. I know that when I drop them off, that they're going to have a day during which they are engaged with both adults and children and will learn as much as they play. There's no question that my son was ready for kindergarten because of the quality care and education he received there."
Adrienne Erazo "Little did we know, the hardest part of becoming parents would be the decision on who would get the privilege of caring, teaching, nurturing and guiding our three most treasured life accomplishments (our babies) alongside us. After multiple phone and face-to-face interviews at different centers and in-home facilities, we walked out of SSELC with no question where our children were going. The team of teachers are the best of the best and have become family. From teaching lessons to instilling amazing qualities in our children, they always go above and beyond. Our children love "school," and all of the teachers make us feel blessed we chose the right facility on the first try! All three of our children started between 2–3 months old and will continue through the preschool program, finishing more than prepared for Kindergarten. Not one minute of one day have we regretted the decision or worried about our children's growth or well-being while at SSELC, making it so much easier to be a 2-working parent home. In one word—PHENOMENAL!"
T.J. and Amie Blain "We are so pleased with the quality of care Stepping Stones Early Learning Center has provided to our children. Three of our four boys have at some point attended the Early Learning or Kids Klub programs. Not only do we feel comfortable knowing that they are being taken care of, they are receiving a quality education at the same time. The curriculum is absolutely amazing, it is definitely giving the children an advantage when they get to Kindergarten. We cannot thank Stepping Stones Early Learning Center and the fantastic support of staff enough for all they do for our children."
Amy and Ritchie Reidel "Stepping Stones is hands down the best at what they do. Our son, Sam (18 months old), absolutely loves "school" and begs to go every morning (even on the weekends–HA!). The staff is always very knowledgeable, polite and is exceptional with the kids. Sam is in the Grasshopper room (1-year-olds), and they have so many fun activities and crafts that are sent home (which make Mom and Dad very proud). We feel Sam's development and social skills are noticeably more developed than many other children his age. We attribute this to Stepping Stones' early learning curriculum. To say we are impressed is an understatement. They've far exceeded our expectations, and we both rest easy knowing our child is getting the very best."
Ben and Katie Truetken